HOME > > MAIN OFFERS PAGE > > ARITHMETIC FREEWARE and SHAREWARE
Mental Arithmetic Exercise
Goldie's Game- TMA36
The program puts a problem on the screen, e.g.

But notice! It only shows one term (e.g. "+4" ) at a time! (As you see in the graphic above, unless you have graphics turned off in your browser.)
You can run the program immediately, it is freeware, and there is no time or usage limit.
The following screenshot shows what users see AFTER they have tried and failed to enter the answer to the problem having first seen it only a term ("-2") at a time.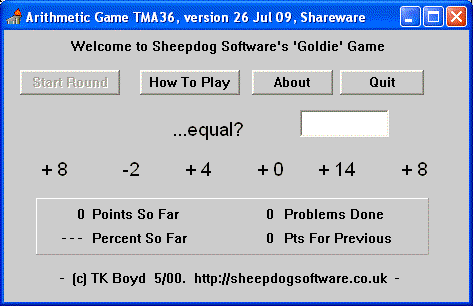 Click here for further details and the download button. The program comes "ready to run". You just double-click on the file you download, and the exercise begins. There's no installing involved.